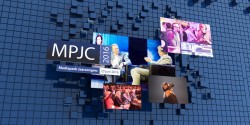 Annual Media Seminar: Changing Media Patterns and the Future of Video
01 July 2016
On Thursday the 23rd of June, the annual media seminar (Mediapark Jaarcongres) took place in Studio 21 in Hilversum (the Netherlands). The Center for Media & Health participated to hear the opinions of leading media experts on the future of video.
The media landscape has changed radically over the last few years. From newspapers and glossies to broadcasters and social media: most of the media organizations are experimenting with new video and distribution formats. Speakers from NOS, Linda, RTL, TMG, and NPO all approach this in their own, unique way, but share the trend they anticipate to: target audiences are spreading across a strongly segmented media landscape.
Media Consumption Patterns
Matt Locke (Storythings) @ Mediapark Jaarcongres 2016 from iMMovator on Vimeo.
Digital storyteller Matt Locke elaborated on how consumption patterns have changed as a result from the emergence of internet. Web services and apps help consumers to curate an overwhelming and continuous stream of information. In this way, Matt expects that conversation with (virtual) peers will become the leading interface of media consumption.
(Interested? You can find the slides of
Matt's keynote
here)
Snapchat
Even voorstellen: Tim en Liam van GoSpooky from iMMovator on Vimeo.
GoSpooky's Tim van der Wiel and Liam Tjoa explained how they develop Snapchat campaigns for the world's leading brands and expanded on the power of the increasingly popular social network: " Snapchat is a closed network. Therefore, your parents, neighbors or teachers cannot see what you are posting, which makes it much more fun to share funny pictures and movies with your friends."
Back to news overview