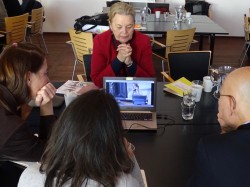 CMH participates in International Positive Deviance Conference
30 November 2016
This fall, the Center for Media & Health has participated in the International Positive Deviance (PD) Conference in Copenhagen, Denmark.
From October 31st until November 3th, Martine Bouman has contributed the results of CMH's PD-projects during inspiring sessions on the ins- and outs of the PD methodology. During her stay in the Danish capital, Martine has met the world's leading scholars, practitioners, and facilitators and has exchanged thoughts on how to engage communities in problem solving, how to identify successful microbehaviors, and how to put these solutions into practice.
Visit the
International Positive Deviance Conference
's website for more information.
Back to news overview