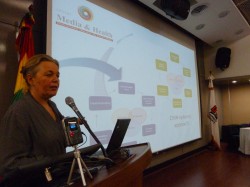 CMH collaborates with Colombian partners in new EE television series
27 March 2013
From March 2nd to 10th 2013, Dr. Martine Bouman visited the Universidad del Norte, the production company Cintura and the foundation Imaginario to advice them on a new Entertainment-Education series Revelados ('revelations') about sexual health and gender issues.
During her visit, Martine Bouman facilitated a three days workshop in Bogota for different partners being involved in Revelados and gave various presentations on 'Trends in (Social) Media', 'From Multimedia, Crossmedia to Transmedia', 'New research methods in Entertainment-Education' and 'Interactive media projects: SndBites and UP2U'. She also worked with the Revelados team of the Universidad del Norte in Baranquilla on the research design of the series and gave guest lectures at the Doctorate Communication Program. Besides the Center for Media & Health, Puntos de Encuentro (Amy Banks) from Nicaragua was also invited to advice about the script development of the EE-series Revelados.
"The collaboration with the Center for Media & Health is an invaluable opportunity for us to share ideas and experience. It is indeed a huge opportunity to learn from leaders in the field of Entertainment-Education." Adelaida Trujillo Caicedo, Director Imaginario/Citurna Colombia
"
I was really impressed with the passion of the team and the openness to learn new things.
" Dr. Martine Bouman
Back to news overview