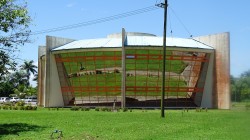 CMH explores options for collaboration in Suriname
22 August 2016
In July and August 2016, Martine Bouman was visiting Suriname (Paramaribo). She explored several options for potential collaborations.

She met with Prof. Dr. Jack Menke, who is the Chairman of the Executive Board of the Anton de Kom University in Paramaribo (photo). Also, she talked with researchers of the Department 'Public Health' at the Academic Hospital Paramario (AZP).

On August 4th, Martine Bouman was invited by the Expertise Center Suriname (KES) to give a presentation on "Media and Communication in a new perspective: the Entertainment-Education strategy". Over 20 professionals from media and societal organizations (on social issues such as health, sustainability and social tolerance) attended Martine's lecture.

"It was great to meet each other and it would be wonderful to stay connected. Maybe we can collaborate in the future." (Robby Rijssel, manager KES)
Back to news overview