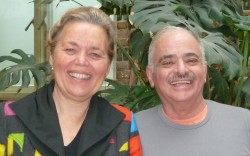 Interview with Miguel Sabido about CMH-series SOUND
02 April 2013
During his visit at the Center for Media & Health (CMH) the Mexican scriptwriter and producer Miguel Sabido viewed various Entertainment-Education media productions of the CMH.
Miguel Sabido showed a big interest in the digital and webbased storytelling media productions of the CMH such as the E-E internetseries SOUND (
www.sound-soap.nl
). In this SOUND webseries, CHM applied Sabido's theoretical Entertainment-Education framework. In a video interview Sabido shares his opinion about the CMH's production SOUND.
Click here to watch the interview:


Back to news overview