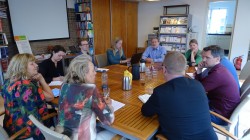 Positive Deviance meeting at the Center for Media & Health
16 June 2016
On June 13th international Positive Deviance (PD) colleagues Lars Thuesen (Denmark), Mark Munger (USA), and Josette de Goede (The Netherlands) visited the CMH team in Gouda.
The CMH organized a PD invitational meeting for this special occasion. The interactive meeting addressed PD application methods and other topics such as PD data collection, and cultural context when using PD.
"Thanks for a lovely, inspiring and productive day with you all in Gouda. You do incredible important and innovative work – and it was really delightful to engage with you " Lars Thuesen
Lars Thuesen is founder and Change Leader at WIN - Welfare Improvement Network (Denmark); Mark Munger is senior consultant, Plexus Institute (USA), and Josette de Goede is founder of The Change Academy (The Netherlands).
Related projects
Back to news overview