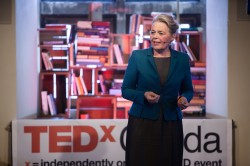 TEDxGouda with Martine Bouman
13 October 2016
On October 12th, Martine Bouman gave an engaging talk with the title "Techno-body or positive health" at the TEDxGouda event.

How do we look at our body in a world where medical technological stories in the media dominate? Is, at some point, a healthy lifestyle not necessary anymore, because we can easily replace organs in the future by printing them in 3D? How can we apply developments in new media (virtual reality, Occulus Rift etc.) for positive health? Martine illustrated the tension
as well as the chances
between the media and the health field through various practical examples. Martine's TEDx talk will be available shortly with English subtitles at the
YouTube-channel of TEDx
.
In the spirit of ideas worth spreading, TEDx is a program of local, self-organized events that bring people together to share a TED-like experience. TED stands for Technology, Entertainment en Design. TEDx events are organized since 2009.
More information:
https://www.ted.com/tedx/events/18409
Back to news overview